At some point in our lives, most of us experience feelings of sadness or stress that can seem overwhelming. We may need help in coping with the problems causing our distress.

North Central Mental Health Services is a comprehensive, community-based mental health and recovery agency. We serve all age groups from young children to older adults and treat children, adults and families. Some persons receiving services will benefit from short-term outpatient care to help them move forward; others may need more intensive treatment over a longer period of time.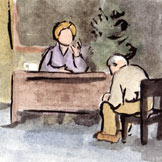 Caring, trained professionals help persons served deal with life problems and pressures in positive, constructive ways. Outpatient services help consumers deal with situational problems. Some clients, however, struggle with long term, intense mental disabilities.
North Central's Recovery Support Services program provides the support, treatment and encouragement needed to help consumers move toward recovery and independence. The goal of this department is to help each person served reach the highest level of performance possible—up to and including employment. The center's medical staff and residential programs assist people in reaching this goal.

In addition to its direct treatment programs, North Central emphasizes the importance of education and prevention services, including Suicide Prevention – for schools, civic organizations, faith-based institutions and businesses.

North Central was incorporated in 1973, and has served our community for over 40 years. Our main building is located at 1301 North High Street, Columbus. We also have offices in the Short North and Gahanna. In addition, the agency operates several residential programs throughout Franklin County.